FLOWER GIRL AND JUNIOR DRESSES
WE OFFER OVER 40 FLOWER GIRL AND JUNIOR DRESSES!!!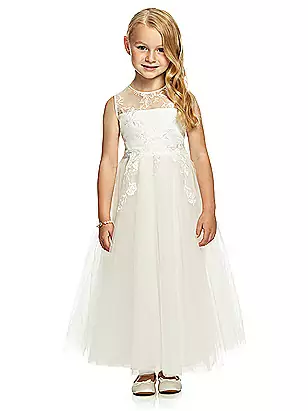 ALL OUR FLOWER GIRL AND JUNIOR DRESSES ARE FROM THE DESSY GROUP BRIDAL COLLECTION.
(click on any picture to be taken to The Dessy Group website. look under the bridesmaid heading)
ALL OUR FLOWER GIRL AND JUNIOR DRESSES COME IN A WIDE SELECTION OF COLORS. THERE ARE OVER 30 COLORS TO CHOOSE FROM FOR MOST OF THE DRESSES!!!
LET ME TELL YOU A QUICK HISTORY OF DESSY'S ROOTS AND HOW THEY GOT STARTED WITH FLOWER GIRL AND JUINOR DRESSES.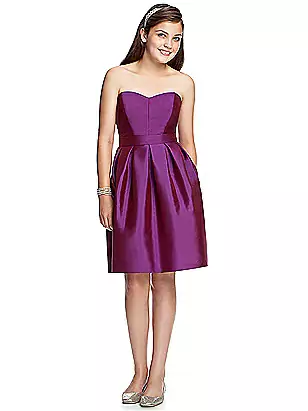 The Dessy Group was originally known as A & M Rosenthal, established 1939.
Our founder Margot Rosenthal is credited with the veil and attendants headpieces in this Modern Bride photo at the Plaza Hotel NYC 1949.
In the 1950's, her daughter Ronnie and Ronnie's husband Andrew took over the business and added bridesmaid dresses to the Dessy lines.
Now known as The Dessy Group, the business continues as a leading manufacturer of bridesmaid dresses, social occasion dresses, flower girl  and junior dresses as well as destination wedding gowns.
They now operate under the labels Dessy Collection, After Six, Alfred Sung, Lela Rose Bridesmaid, Social Bridesmaids, 57 Grand and After Six Wedding.
AS YOU CAN SEE THE DESSY GROUP HAS BEEN AROUND FOR QUITE A WHILE, OVER 75 YEARS!!!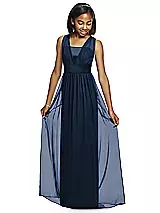 TO ME THE BEST PART IS THEY ARE RIGHT HERE IN THE USA!!!
THAT MAY NOT MEAN MUCH TO SOME OF YOU, BUT, THIS MEANS THEY USE AMERICAN SIZES, NOT SOME FOREIGN COUNTRY SO YOUR DRESS WILL FIT MUCH BETTER!!! 
YOU SHOULD STILL BE MEASURED AND ORDER FROM OUR SIZE CHART INSTEAD OF YOUR REGULAR DRESS SIZE.
IF YOU HAVE A QUESTION ABOUT COLOR OR FABRIC, YOU CAN ORDER A FREE SWATCH OF AVAILABLE COLORS FOR THE FLOWER GIRL OR JUNIOR DRESS YOU LIKE!!!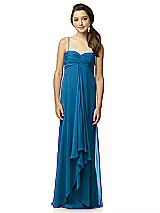 IF YOU ARE IN DOUBT ABOUT THE CORRECT SIZE FOR YOUR FLOWER GIRL AND JUNIOR DRESSES, I SUGGEST ORDERING ONE SIZE LARGER. (only one) DRESSES CAN USUALLY BE TAKEN UP EASIER THAT LET OUT.
TO SEE ALL OUR FLOWER GIRL AND JUNIOR DRESSES! CLICK HERE! LOOK UNDER THE BRIDESMAIDS DRESSES HEADING.
THANK YOU!